Arlington Asphalt Shingle Roofing
Offering Professional Roofing Services Across Northern Virginia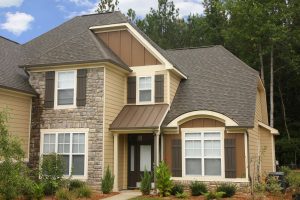 Asphalt shingle roofing has been the most popular roofing material on the market for decades, so there's no surprise you're looking into it for your own home. However, just because it's popular doesn't mean that all shingles are the same.
You'll want an asphalt shingle roofer who uses high-quality products and has the necessary experience to use them properly. Luckily, you're in the right place for that.
Painter Roofing & Construction has served Arlington, Virginia, homeowners for the past decade. When you partner with us for an asphalt shingle roof replacement or asphalt shingle roof repairs, you can expect exceptional products from leading manufacturers and a professional team of skilled installers who will ensure every aspect of your project is completed flawlessly.
To get a free quote on your asphalt shingle roofing services, call (888) 491-8543 or send us a message online.
Our Asphalt Shingle Roofing Services
At Painter Roofing & Construction, we offer several services so that we can better meet the varied needs of our customers.
You can rely on us for:
Asphalt shingle roof repairs & maintenance
Asphalt shingle roof replacements
Asphalt shingle roof installations
Asphalt shingle roof inspections
If you're not sure what you might need, start with an inspection. One of our experts will evaluate your roof and recommend the best course of action. If a roof replacement is warranted, we will help you choose an option that suits your home.
What Are the Benefits of Asphalt Shingle Roof Installation?
When it comes to roofing materials, asphalt shingles continue to be a popular choice for homeowners across Arlington, VA, and beyond. The enduring popularity of asphalt shingle roofing can be attributed to a range of benefits that make it an excellent option for both residential and commercial properties.
At Painter Roofing and Construction, we're committed to delivering high-quality roofing solutions, and here are some key advantages of asphalt shingle roof installation:
Affordability
Asphalt shingle roofing is one of the most budget-friendly options available. The materials themselves are cost-effective, and installation tends to be quicker and more straightforward than with other roofing materials, helping to keep labor costs in check.
Variety of Styles and Colors
Asphalt shingles come in a wide range of styles, colors, and textures, allowing homeowners to choose a look that complements their property's aesthetics. Whether you prefer a traditional, contemporary, or rustic appearance, you'll find asphalt shingles to match your style.
Durability
Modern asphalt shingles are designed to withstand the elements. They are engineered to resist harsh weather conditions such as heavy rain, wind, and hail. Many manufacturers offer shingles with impressive warranties, providing peace of mind for homeowners.
Low Maintenance
Maintaining an asphalt shingle roof is relatively simple. Regular inspections and minor repairs as needed can help extend the lifespan of your roof. Additionally, if a section of your roof does require repair or replacement, it can often be done without affecting the entire roof.
Energy Efficiency
Some asphalt shingles are designed to reflect more sunlight and absorb less heat, contributing to better energy efficiency in your home. This can result in lower cooling costs during the hot Arlington summers.
Quick Installation
Asphalt shingle roofing installations are typically faster than those of other roofing materials. This can minimize disruptions to your daily life and reduce the time your property is exposed to the elements during the installation process.
Recyclability
Asphalt shingles are often recyclable, making them an eco-friendly choice. When it's time to replace your roof, the old shingles can be recycled into new materials, reducing waste in landfills.
Enhanced Curb Appeal
A well-chosen asphalt shingle style and color can significantly enhance your property's curb appeal. It's a cost-effective way to improve the overall look of your home, which can be particularly beneficial if you plan to sell in the future.
Local Availability
Asphalt shingles are widely available, making it easy to find replacement shingles if needed, even years after the initial installation.
How Long Do Asphalt Shingle Roofs Last?
One of the common questions homeowners have when considering asphalt shingle roofing is, "How long can I expect my roof to last?" The lifespan of an asphalt shingle roof can vary depending on several factors, including the quality of materials, installation, climate, and maintenance. At Painter Roofing and Construction, we want to provide you with a clear understanding of what to expect from your asphalt shingle roof.
Standard Asphalt Shingles
The most commonly used asphalt shingles are known as "standard" or "3-tab" shingles. These shingles are typically the most affordable option and come with a moderate lifespan. On average, you can expect standard asphalt shingles to last between 15 to 20 years. However, with proper care and maintenance, some may extend beyond the 20-year mark.
Architectural Asphalt Shingles
Architectural or dimensional asphalt shingles are a step up in quality and durability. They are thicker, more durable, and often come with better warranties. When installed correctly, architectural shingles can have a lifespan of 25 to 30 years or more.
Factors That Can Affect the Lifespan of Your Asphalt Shingle Roof
Climate: Arlington, VA, experiences a range of weather conditions, from hot summers to cold winters. Extreme temperature fluctuations and exposure to UV rays can affect the lifespan of asphalt shingles. Proper ventilation and insulation can help mitigate these effects.
Maintenance: Regular roof maintenance, including inspections, cleaning, and timely repairs, can significantly extend the life of your asphalt shingle roof. Clearing debris, keeping gutters clean, and addressing minor issues promptly are all essential.
Installation: The quality of installation plays a crucial role in the longevity of your roof. Proper installation, including correct underlayment, ventilation, and flashing, is vital. It's essential to hire experienced roofing professionals like Painter Roofing and Construction to ensure a reliable installation.
Quality of Materials: The quality and brand of asphalt shingles you choose can impact their lifespan. Investing in high-quality shingles with extended warranties can provide greater durability and peace of mind.
Ventilation: Adequate attic and roof ventilation are essential for preventing heat and moisture buildup, which can lead to premature shingle deterioration. Proper ventilation can extend the life of your roof.
Roof Pitch: The pitch of your roof can affect how quickly water sheds from the surface. Steeper roofs tend to shed water more efficiently, potentially extending the life of your shingles.
Moss and Algae: The presence of moss or algae on your shingles can lead to deterioration if not addressed. Regular cleaning and treatment can help prevent this issue.
While these general guidelines can give you an idea of asphalt shingle roof lifespans, it's essential to consult with roofing professionals like Painter Roofing and Construction for a more accurate assessment of your specific roof's condition and expected longevity. We provide expert roof inspections, maintenance, repairs, and installations to ensure your roof reaches its full potential and provides long-lasting protection for your home.
Trusted Asphalt Shingle Roofers in Arlington, VA
At Painter Roofing and Construction, we specialize in providing top-tier asphalt shingle roof installation services in Arlington and the surrounding areas. We understand the unique needs of our clients and work diligently to ensure a roofing solution that combines affordability, durability, and aesthetic appeal.
If you're considering a new roof or need roof repair or replacement, don't hesitate to reach out to our experienced team for expert guidance and reliable installation. Your satisfaction and peace of mind are our top priorities.
Contact us today to schedule a complimentary consultation and learn more about our asphalt shingle roofing.
Get Inspired
Imagine What We Can Do for Your Home or Business
When you choose Painter Roofing and Construction, LLC, you can rest assured knowing you're working with a team that is dedicated to getting the job done right—the first time.
Hear From Our Happy Customers
Reviews & Testimonials
At Painter Roofing and Construction, LLC, your satisfaction is our priority! See for yourself what our customers have to say about working with us.
"I highly recommend Painter Roofing and Construction."

Had five estimates, nothing equated to the responsiveness, care, and professionalism Frank showed us.

- Tony A.

"Wont go to anyone else in the future."

Frank is super easy breezy to work with. We didn't feel like we were getting sweet talked into unnecessary work.

- Sheila L.

"They always fit us in quickly and they do a great job."

They are knowledgeable and provide excellent service.

- Teresa R.

"They were extremely courteous and professional."

Frank the owner was very responsive and had his co-worker come out the next day for measurements and had a quote that night.

- Joe I.

"I will use them again when the need arises!"

Frank and his team gave me a fair price, did what they said they would do when they would do it.

- Todd F.

"We would absolutely use them again for future projects."

The Painter team was communicative throughout the process - being very clear about costs, when work crews would show up, etc.

- Satisfied Customer

"Great communion through email and text."

Then arrived on time the days that they scheduled work. Very profession and courteous.

- Jennifer M.

"Painter will be my top recommendation to anyone looking for roof work."

Following that, they stopped by in person to make sure every detail was done to our liking.

- TJ D.