Roof Repairs & Maintenance
Roof Repairs & Maintenance in Arlington & Northern VA
Painter Roofing & Construction is your source for roof repairs and roof maintenance in Arlington and Northern Virginia.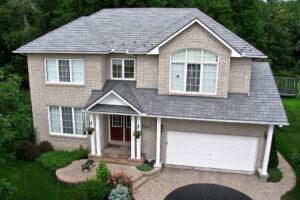 A roof is a building's first line of defense against the elements. Unfortunately, no matter how carefully installed, it will eventually succumb to normal wear and tear and develop issues such as damaged shingles and leaks. If you are experiencing problems with your roof, contact Painter Roofing and Construction. Our family-owned and -operated company has helped countless residents and business owners in Northern Virginia and Washington, D.C. with our roof repairs and roof maintenance services. We offer a wide range of high-quality solutions to meet all your roofing needs.
Our Roof Repair Services in Northern VA
As the area's leading roofing contractor, we offer several options to meet the various preferences and budgets of our customers. The capable team at Painter Roofing & Construction can work with asphalt shingles, metal, slate, and more. We partner with renowned manufacturers to bring our customers the best of the following:
Asphalt shingles
Wood shakes and shingles
Metal roof products
Slate shingles
Flat roofs
TPO Roofing
EPDM Roofing
Additional Roof Repair Services
Is your roof in generally decent condition but for one concerning spot? Our roof repair services can be tailored to address small areas and unique parts of your roofing system. Contact us for any of the following needs in Arlington and the surrounding areas:
Plumbing flashing replacement
Field repairs
Wind, hail, animal, and tree damage
Flashing and counter-flashing repair and replacement
Chimney repairs and maintenance
Skylight re-flashing and dome replacement
Gutter Repairs
Whatever roof repairs you need, our team will take care to provide a thoughtful, lasting solution, allowing you to rely on your roof for many more years to come.
Avoid Costly Repairs With Regular Roof Maintenance
At Painter Roofing & Construction, we understand how costly a full roof replacement can be. We offer roof inspections and repair services to help our customers in Arlington and surrounding areas avoid incurring these expenses. Regular roof maintenance is essential in making sure that your roof is in good condition and catching small problems before they develop into bigger ones.
5 Benefits of Roof Maintenance:
Extend the lifespan of your roof – Your roof is one of the biggest investments you can make in your home. By properly maintaining your roof, you can extend its useful life and reduce the risk of needing an early roof replacement.
Keep your family or other building occupants safe and healthy – Chronic leaks can lead to mold and mildew growth, which can be very harmful for you and your family. Regular roof maintenance will help you avoid these issues.
Improve roof Integrity – Roof maintenance will help your roof maintain its integrity and avoid bigger problems down the road.
Find potential problems early – With regular roof maintenance as needed, you'll have an expert evaluating your roof more frequently. If there are any problems with your roof, they will be caught much sooner.
Improve your home's energy efficiency –With costs on the rise, many homeowners are beginning to discover how important energy efficiency is. By keeping your roof in tip-top shape with routine inspections and repairs, you are ensuring that it is properly insulated against the elements. This can result in lower heating and cooling costs.
Turn to Arlington's Leading Local Roofer
If you need roof repair services in or near Arlington, VA, you can confidently turn to Painter Roofing & Construction. Our team of highly skilled roofers can provide you with a complimentary roof inspection, identify problems you may not be aware of, and make recommendations. Our goal is to help you save money, so you can trust that our team will always be honest and upfront with you regarding the necessary roof repairs. Contact us today to get started by scheduling your free inspection.
Get Inspired
Imagine What We Can Do for Your Home or Business
When you choose Painter Roofing and Construction, LLC, you can rest assured knowing you're working with a team that is dedicated to getting the job done right—the first time.
Hear From Our Happy Customers
Reviews & Testimonials
At Painter Roofing and Construction, LLC, your satisfaction is our priority! See for yourself what our customers have to say about working with us.
"I highly recommend Painter Roofing and Construction."

Had five estimates, nothing equated to the responsiveness, care, and professionalism Frank showed us.

- Tony A.

"Wont go to anyone else in the future."

Frank is super easy breezy to work with. We didn't feel like we were getting sweet talked into unnecessary work.

- Sheila L.

"They always fit us in quickly and they do a great job."

They are knowledgeable and provide excellent service.

- Teresa R.

"They were extremely courteous and professional."

Frank the owner was very responsive and had his co-worker come out the next day for measurements and had a quote that night.

- Joe I.

"I will use them again when the need arises!"

Frank and his team gave me a fair price, did what they said they would do when they would do it.

- Todd F.

"We would absolutely use them again for future projects."

The Painter team was communicative throughout the process - being very clear about costs, when work crews would show up, etc.

- Satisfied Customer

"Great communion through email and text."

Then arrived on time the days that they scheduled work. Very profession and courteous.

- Jennifer M.

"Painter will be my top recommendation to anyone looking for roof work."

Following that, they stopped by in person to make sure every detail was done to our liking.

- TJ D.