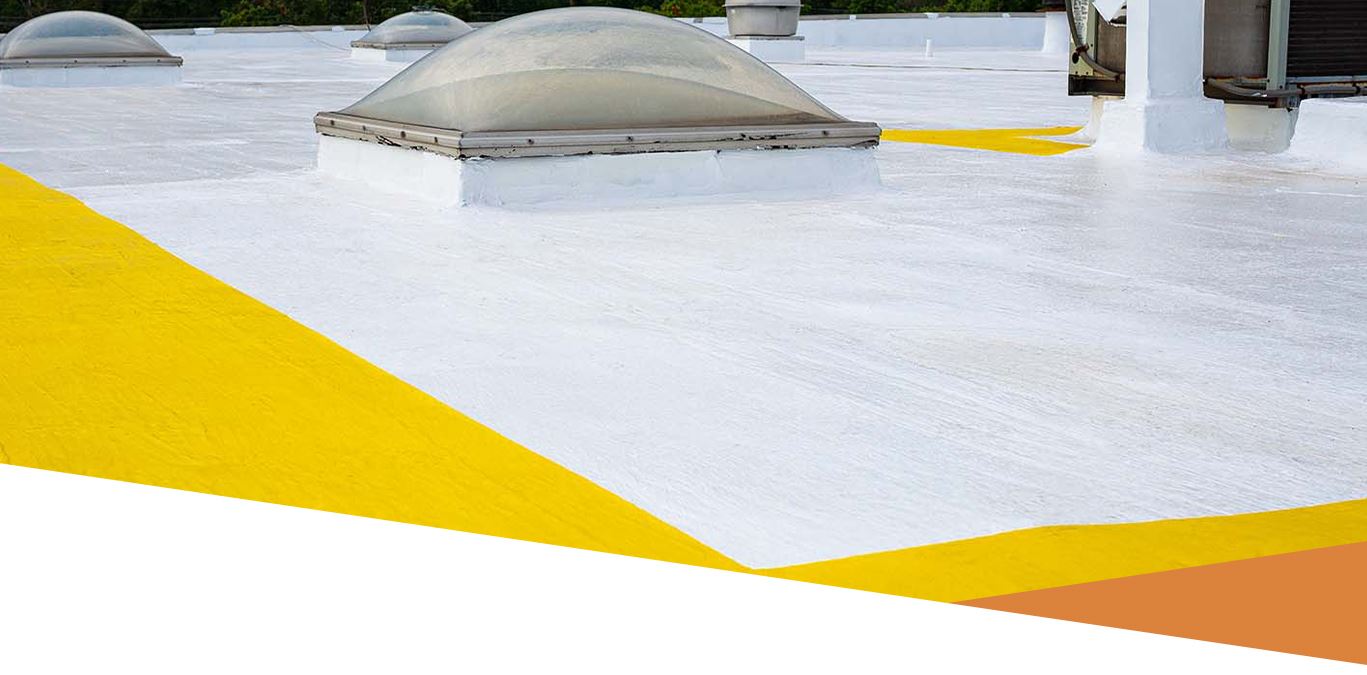 PVC MEMBRANE ROOFING IN ARLINGTON
Repairs, Installations & More from Painter Roofing & Construction
Flat roofs are extremely common in a wide variety of applications. While many businesses and commercial applications utilize flat roofs, many modern-design homes also have a flat roof which requires a specialized flat-roof material. PVC membranes are quickly becoming one of the most popular flat-roof materials due to their low cost, ease of installation, impeccable durability, and outstanding energy-efficiency due to their white color. If you have a PVC membrane roof or you're interested in replacing your roof with a PVC membrane material, Painter Roofing & Construction is the leading name in this type of roofing throughout Arlington, Northern Virginia, and the entire Washington D.C. metroplex.
At Painter Roofing & Construction, we're a full-service PVC membrane roofing company. We offer repairs, installations, inspections, and maintenance for all types of PVC membrane roofs. From commercial roofing applications like large buildings and warehouses to PVC membrane roofs over ultra-modern homes, we make sure that your roof is in the best shape possible for long-lasting protection and durability. When it comes to your roof, we know we can never be too careful, and we go to great lengths to make sure all of our workmanship is held to the highest standards of quality. Plus we know your satisfaction can only be obtained through outstanding customer service, and we work with you through every step of our service to ensure you're happy, confident, and know that your home is in qualified and capable hands.
PVC Roofing Repairs
Repairing PVC roofing is extraordinarily easy, which is just one of the reasons why it has quickly become one of the most popular flat roof materials on the market. Repairs are generally fast, inexpensive, and require very little intensive work to do properly, which means small issues are generally easy to resolve well before your roof sustains any serious damage. Whether you have a minor issue or need a serious repair, you should trust your roof to the experienced professionals at Painter Roofing & Construction. Our team has extensive training in PVC membrane roofs, which enables us to suggest repair solutions which solve your problem and keep your roof safe and secure.
We can repair any PVC roofing problem, including:
Missing, cracked, or damaged shingles
Leaks
Bowing, sagging, or bellying
Holes, cracks, or visible sunlight in the attic
Decking & underlayment repairs
Flashing repairs & replacements
PVC Roofing Installations
Looking for a new roofing material which will withstand the test of time, look great, and stay within your budget? Look no further than a PVC membrane roof! At Painter Roofing & Construction, we can outfit your flat-roofed structure with a PVC membrane that provides you with outstanding protection, years of durability, and outstanding energy efficiency. Because these roofs are usually white in color, they reject a lot of thermal energy, which helps them stay cooler all throughout the year.
One thing that contributes to the durability of PVC membrane roofs is the fact that they don't require penetration during application. Instead, we rely on RhinoBond®, a patented electromagnetic induction welding process that connects roofing material to fastener plates. This application method ensures total coverage and the lack of penetration means that you're better protected against moisture. Additionally, this method reduces the number of seams and fasteners needed in the first place, which means your roof will be better able to withstand strong winds and harsh weather. Because there's no chemical adhesive use, this method is more environmentally friendly because it doesn't release any VOCs. You also don't have to wait for it to dry either.
If you're looking for a great investment in the future of your property, replacing your old, worn-out roof with a new PVC membrane roof may be just what you've been looking for.
Maintenance & Inspections
Do you know how healthy your roof is? Is damage forming that you aren't aware of? Do you need a total replacement? Get the answers to all of these questions and more with a through roof inspection from Painter Roofing & Construction! Our fully-licensed roofing contractors offer you a complete picture of your roof, including notifying you of both small and large damage alike.
Get Inspired
Imagine What We Can Do for Your Home or Business
When you choose Painter Roofing and Construction, LLC, you can rest assured knowing you're working with a team that is dedicated to getting the job done right—the first time.
Hear From Our Happy Customers
Reviews & Testimonials
At Painter Roofing and Construction, LLC, your satisfaction is our priority! See for yourself what our customers have to say about working with us.
"I highly recommend Painter Roofing and Construction."

Had five estimates, nothing equated to the responsiveness, care, and professionalism Frank showed us.

- Tony A.

"Wont go to anyone else in the future."

Frank is super easy breezy to work with. We didn't feel like we were getting sweet talked into unnecessary work.

- Sheila L.

"They always fit us in quickly and they do a great job."

They are knowledgeable and provide excellent service.

- Teresa R.

"They were extremely courteous and professional."

Frank the owner was very responsive and had his co-worker come out the next day for measurements and had a quote that night.

- Joe I.

"I will use them again when the need arises!"

Frank and his team gave me a fair price, did what they said they would do when they would do it.

- Todd F.

"We would absolutely use them again for future projects."

The Painter team was communicative throughout the process - being very clear about costs, when work crews would show up, etc.

- Satisfied Customer

"Great communion through email and text."

Then arrived on time the days that they scheduled work. Very profession and courteous.

- Jennifer M.

"Painter will be my top recommendation to anyone looking for roof work."

Following that, they stopped by in person to make sure every detail was done to our liking.

- TJ D.