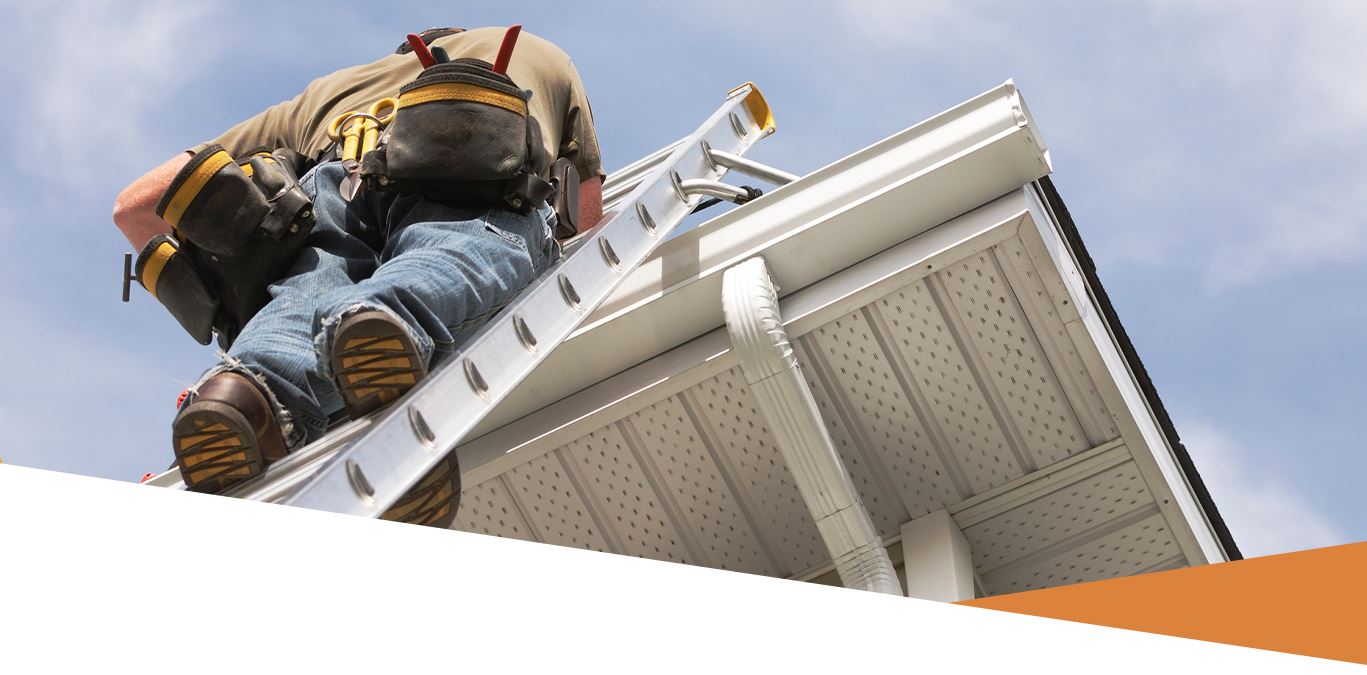 Arlington Gutter Services
Clogged or damaged gutters are more than just an eyesore—they can actually cause damage to your roof, siding, foundation, and other exterior features. This is why you should not ignore the state of your home or business's gutters. Doing so could end up costing you big time.
At Painter Roofing and Construction, our Arlington gutter services are your top choice in Northern Virginia and Washington, D.C. We provide quality gutter repair and installation services, and we can even help you take advantage of the industry's best gutter guards.
If you need the assistance of a gutter professional, do not hesitate to reach out to us. We take calls 24/7 and can schedule same-day appointments. We also give free quotes and can help customers get financing.
Call (888) 491-8543 or send us a message online to get started today!
Five Signs You Need New Gutters
Do you know when to pick up the phone and call for a gutter replacement? Many home and business owners do not, which is why we have listed five signs below that you could need new gutters.
Call us when:
Your gutters are nearing their regular lifespan. Most gutter systems can last up to 20 years, but certain materials like copper gutters can stay strong for up to 50 years or more.
You see cracks and/or holes in your gutter system. If this is the case, a replacement might be the cost-effective solution.
Your gutters are disconnecting from your roof. This often happens when your fascia boards have rotted and will no longer hold to the fasteners.
Paint is peeling around your gutters. Water will seep out of damaged or faulty gutter systems and begin to damage nearby paint and walls.
Your gutters are sagging or pitched incorrectly. These things can be due to improper installation, damage, or age. Whatever the case, they can allow water to pool and spill out.
In certain cases, it is possible to repair gutters that might have one of the above problems and extend their life. At Painter Roofing and Construction, we strive to work with our customers and provide them with exactly what they need. If it is cost efficient to repair a gutter system, we will do just that.
Why Should You Install Gutter Guards?
Gutter guards offer several benefits for home and business owners. They prevent clogged gutters by keeping debris such as leaves, twigs, and rocks out of the system. This ensures proper water flow and minimizes the risk of water damage to the home. Guards also deter pests from nesting in the gutters, reducing the risk of infestations and potential health hazards. Additionally, these protective features reduce the need for frequent gutter cleaning, which can save property owners time, effort, and money.
We are proud to be dealers of Master Shield products, which are the industry's top gutter guards. If you would like to discuss our gutter guard options and how they could benefit your property, contact us.
For Gutter Services in Arlington, Turn to Us
If you need gutter services in Arlington or the surrounding areas, there is no one better than Painter Roofing and Construction. Since 2012, we have been renowned for our outstanding workmanship and unparalleled customer service. We are committed to the complete satisfaction of our customers, offering top-rate services at reasonable prices.
To get a free estimate for your repair or installation service, call (888) 491-8543 or connect with us online.
Get Inspired
Imagine What We Can Do for Your Home or Business
When you choose Painter Roofing and Construction, LLC, you can rest assured knowing you're working with a team that is dedicated to getting the job done right—the first time.
Hear From Our Happy Customers
Reviews & Testimonials
At Painter Roofing and Construction, LLC, your satisfaction is our priority! See for yourself what our customers have to say about working with us.
"I highly recommend Painter Roofing and Construction."

Had five estimates, nothing equated to the responsiveness, care, and professionalism Frank showed us.

- Tony A.

"Wont go to anyone else in the future."

Frank is super easy breezy to work with. We didn't feel like we were getting sweet talked into unnecessary work.

- Sheila L.

"They always fit us in quickly and they do a great job."

They are knowledgeable and provide excellent service.

- Teresa R.

"They were extremely courteous and professional."

Frank the owner was very responsive and had his co-worker come out the next day for measurements and had a quote that night.

- Joe I.

"I will use them again when the need arises!"

Frank and his team gave me a fair price, did what they said they would do when they would do it.

- Todd F.

"We would absolutely use them again for future projects."

The Painter team was communicative throughout the process - being very clear about costs, when work crews would show up, etc.

- Satisfied Customer

"Great communion through email and text."

Then arrived on time the days that they scheduled work. Very profession and courteous.

- Jennifer M.

"Painter will be my top recommendation to anyone looking for roof work."

Following that, they stopped by in person to make sure every detail was done to our liking.

- TJ D.